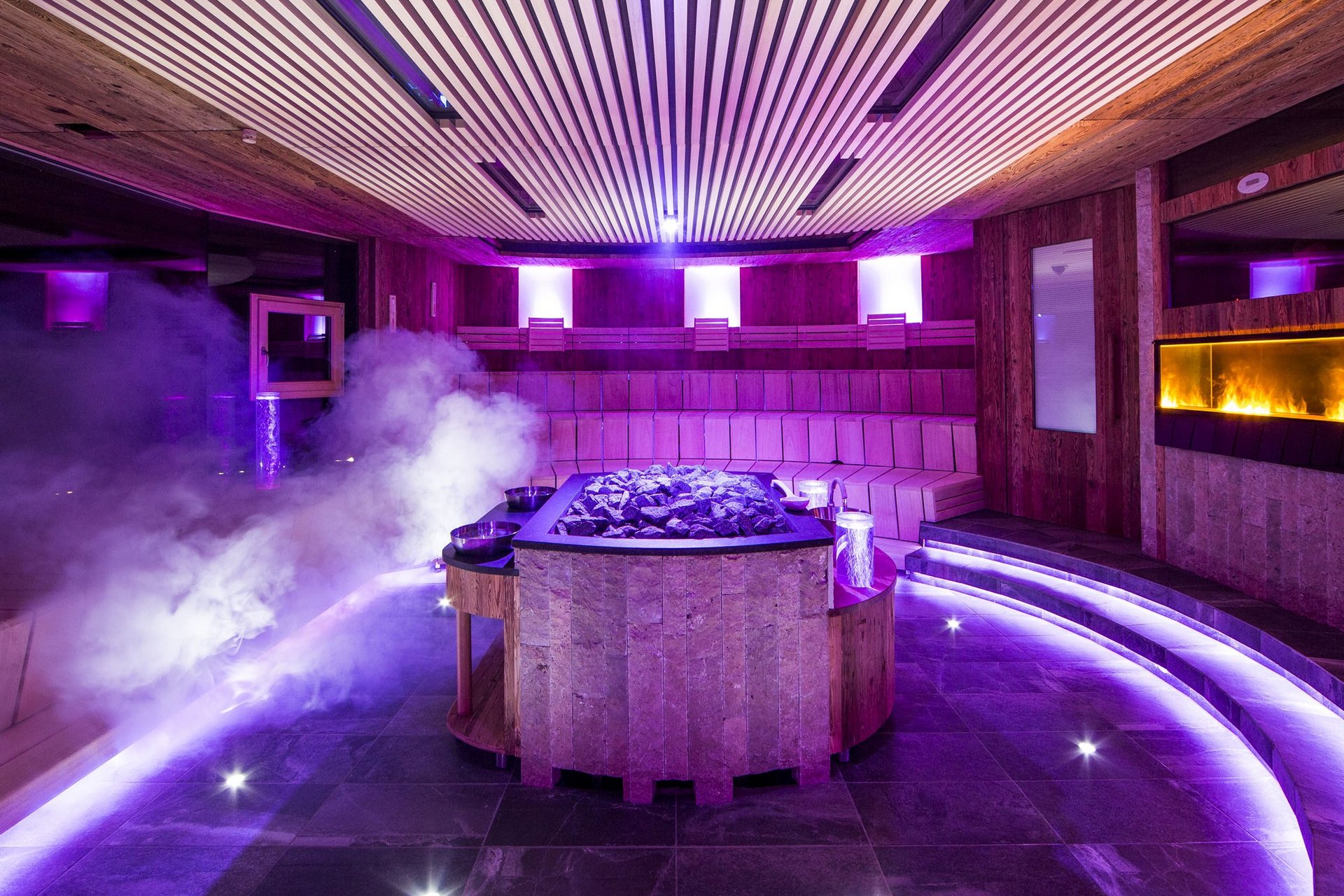 Sweat your heart out in the hotel with a sauna near Meran
Well-being for body and mind
There is nothing quite like the sensation of settling onto a warm wooden bench in the sauna, gazing out through the large panoramic windows, and feeling all the stresses of everyday life evaporate before your eyes. The beneficial effects of a sauna session are well-known: it strengthens the immune system, improves blood circulation, boosts metabolism, and clears the mind. Both body and soul relax. It's no coincidence that our hotel with a sauna near Meran offers you the greatest sauna experience in South Tyrol; our 23 saunas each have their own unique scents, temperatures, and properties. And following a sauna session, an ice-cold shower, a visit to the ice fountain, or a courageous jump into the bio bathing pond in the hotel with a sauna in South Tyrol provides the longed-for cooldown and a special energy boost. Try it yourself!
A sauna highlight at the Quellenhof Passeier:
the Lake Event Sauna
It redefines the experience of a sauna in South Tyrol, has received several awards, and offers exquisite sauna enjoyment as you have never experienced it before: the adults-only Lake Event Sauna at our wellness hotel in South Tyrol. It is located in the middle of the park, near Guesthouse V's bio bathing pond and right next to the two "sauna spheres", a Finnish and an infrared sauna, as well as a tea lounge. The Lake Event Sauna at the hotel with a sauna near Meran features numerous special effects, including a large panorama screen with photos of the most beautiful places in Val Passiria/Passeiertal and matching music, which provides a particularly natural atmosphere. During the unique infusion shows and themed events, multiple sauna masters wave their towels to the rhythm of the music, evenly distributing delightful aromas throughout the sauna. The "Insre Huamit" (our homeland) infusion, for example, smells of Alpine meadow hay and takes you on a sensory journey. In the hotel with a sauna near Meran, we will make you sweat in the most pleasant way. Other highlights include the sauna infusions "Pirates of the Caribbean", "Luis Trenker", "Lord of the Rings", "Top Gun", and "Bergbauernbuabm" (mountain farmer boys).
Impressive sauna range for adults
Our Finnish-style relaxation doesn't end with the unique Lake Event Sauna. Guesthouse V at our hotel near Meran with a pool offers sauna lovers a rose petal steam bath, a clay sauna, a crystal steam bath, a herbal sauna that transports you to the blossoming Val Passiria/Passeiertal mountains, an event steam bath with scrubs and special infusions of honey, salt, fruit, and herbs, a bio sauna in the indoor pool, and an infrared sauna, as well as a tea lounge to keep your fluid balance in check. In Guesthouse F, at our hotel with a sauna near Meran, you will find a large panorama Finnish sauna with an automatic infusion system, a plunge pool, a fireplace, and a tea lounge. All these saunas are within the adults-only area, giving you exclusive moments of peace and relaxation.
Sweat it out with the whole family in a hotel with a sauna near Meran
Of course, at the Quellenhof Luxury Resort Passeier, it is not only adults who can enjoy a strengthening sauna session but also children. Guesthouse P has both a nude area and a dress-on area for families with children. Step into the varied sauna world and let the soothing scents envelop you. Here you will find a sweat room (Finnish sauna), an Alpine sauna (Finnish sauna in a log cabin), a steam bath, a laconium, a herbal bath, and an infrared cabin. Afterwards, sauna fans of all ages can unwind on loungers and warm water beds in the cosy relaxation oases.
Relaxation areas at the hotel with a sauna near Meran
Do you long for more exclusivity and privacy when enjoying a sauna session? The Quellenhof Luxury Resort Passeier is a hotel with a sauna in your room in South Tyrol. We have exclusive rooms and suites at your disposal that include their own private saunas, such as the Rose Deluxe Suite 3 in Guesthouse F or the Penthouse Suite in Guesthouse P. All chalets have their own private sauna as well.