The first teppanyaki restaurant in South Tyrol
Show cooking at the Quellenhof
Experience Japan in Val Passiria/Passeiertal – at least on a plate. When skilful Japanese culinary art combines with the panorama of the Passeier mountains, you know it must be the Sky Restaurant Teppanyaki at the Quellenhof Luxury Resort Passeier. Teppanyaki broadly means "grilled on an iron plate". And that describes the cooking style quite aptly: your dishes are masterfully prepared on a steel plate in a show cooking area and then eaten at the communal table around the grill. The Sky Restaurant Teppanyaki is the first teppanyaki restaurant in South Tyrol. The culinary delights are prepared by real masters: Xiao Wang is one of the most sought-after teachers of real teppanyaki cuisine. Together with Toshio Kobatake, he has taken sous-chef Roman under his wing and introduced him to the art of teppanyaki. Now Roman is at the teppanyaki grill several evenings a week, preparing your dishes à la minute before your eyes.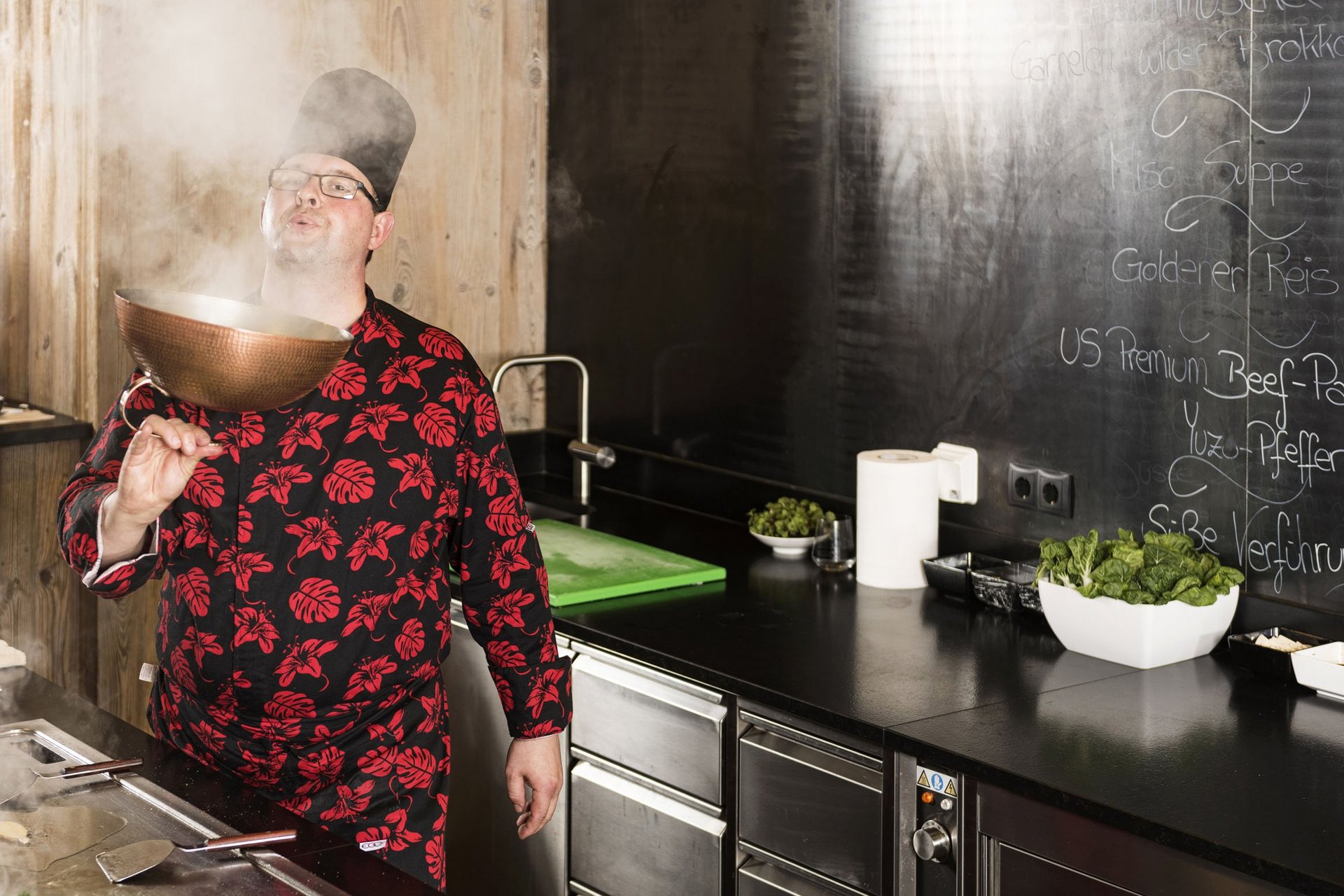 Show cooking à la minute with a panoramic view
Here's what the Schlemmer Atlas says about our restaurant.
- translated excerpt from the Schlemmer Atlas 2021 -
At the Quellenhof Luxury Resort, an exquisite Far Eastern grill culture meets heartfelt South Tyrolean hospitality. The dishes are freshly prepared in front of the guests on the teppanyaki grill in the Sky Restaurant in the original Japanese style. An internationally renowned master and teacher, Xiao Wang has brought the art of Japanese teppanyaki cooking to the hotel. His "student", Roman Vidovic, now amazes the eyes and palates of the guests at the counter with unusual fish and meat creations cooked to perfection. They sizzle and steam, and sometimes flames flare up before the grill chef slides the aromatic delicacies onto the plates. Sea bass, beef fillet, and prawns are on the menu, accompanied by fine side dishes. Those who want to experience a wealth of artful action on the hot steel plate can enjoy the six-course menu. Good wines are also served, of course.
For external guests, a price of €115.00 is charged; for Quellenhof guests, there is a surcharge of €95.00.
Opening hours and information
Please note that for organisational reasons, 80% of the menu price will be charged for cancellations made up to the day before. If the cancellation is made on the same day, the full amount will be charged.