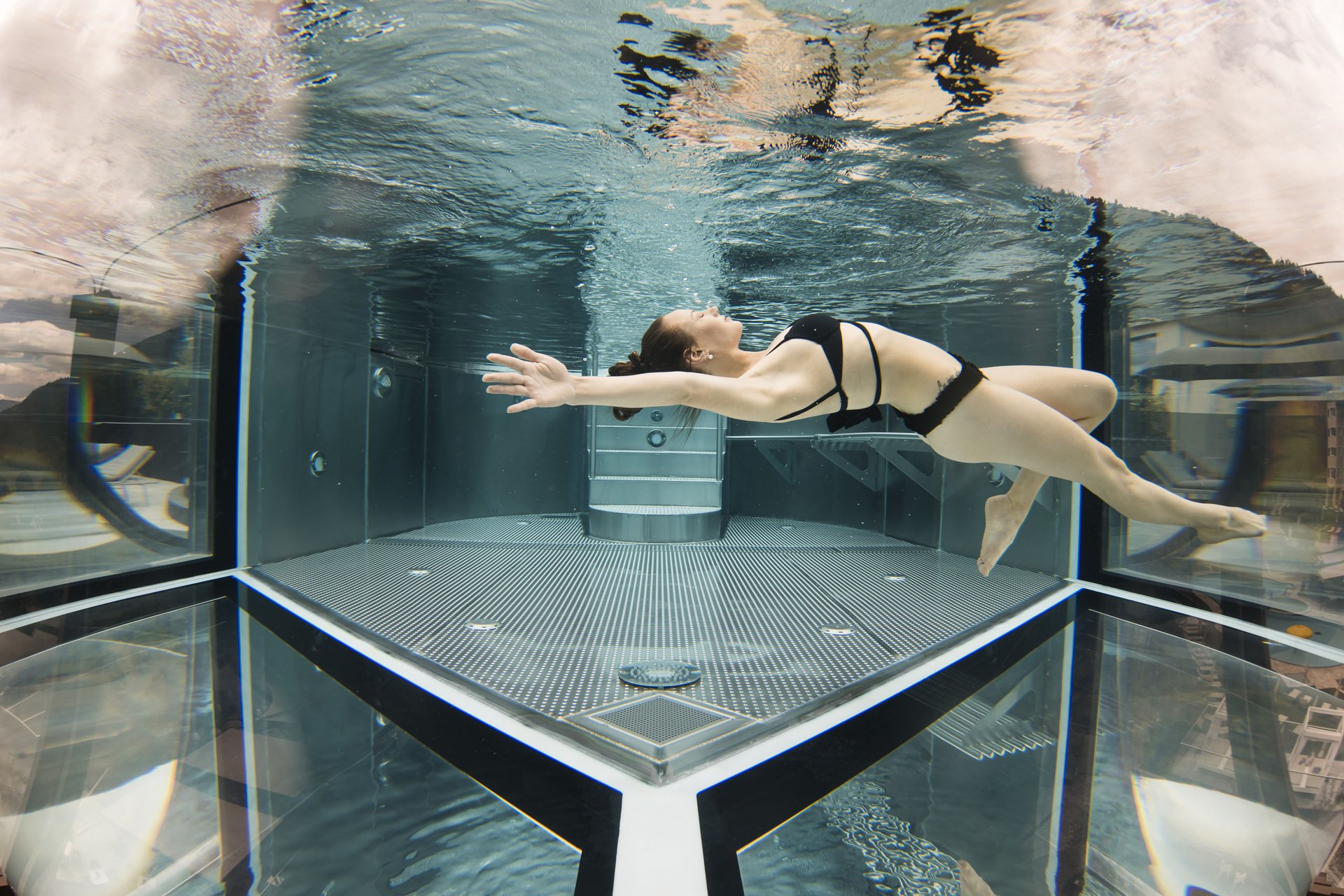 Your hotel near Meran with a pool – a paradise for all ages
Water: the driving force of life
Escape the routines of everyday life and submerge yourself in a world of well-being. The Quellenhof Luxury Resort Passeier is more than just a hotel near Meran with a pool; it is a true paradise for those seeking tranquillity and pleasure, an El Dorado for water lovers young and old with a gigantic Acqua Family Parc. If you are longing for a holiday at a hotel with a bathing pond in South Tyrol, with indoor and outdoor pools and plenty of space to revel in, the Quellenhof Passeier is the place to be. Our vast and varied water world offers something special for every wellness guest: a 25-metre-long infinity sports pool, a pleasantly warm saltwater pool with 7% salt, a large natural bathing pond, and the Acqua Family Parc for children and anyone who likes to slide, play, or splash. Experience the diversity of water.
A feeling of weightlessness and relaxation for adults
Water is life. It gives us strength. It relieves our burdens. It brings us inner peace. At the Quellenhof, exclusive adults-only areas with pools and islands of tranquillity await you. Take, for example, Guesthouse V at our hotel near Meran with a pool, which delights guests with its indoor and outdoor pool (32°C) heated all year round, an outdoor saltwater pool (34°C), also heated all year round, a natural biological bathing pond with access to the whirlpool, and a 25-metre-long infinity sports pool with indoor entry and time tracking system – all reserved exclusively for adults. Let your mind range freely in our hotel with a 25-metre swimming pool as your tension gives way to a feeling of release. Guesthouse F is home to the unique, round glass infinity pool (32°C), heated all year round, with a view of the Passeier mountains.
Ultimate water fun in the hotel near Meran with a pool
On holiday, children want to play, have fun, let off steam – and simply be children. Because childhood is when precious moments are collected and transformed into beautiful memories. And at our hotel near Meran with a pool, your children will collect countless happy childhood memories. In the Acqua Family Parc, at the heart of our wellness hotel in South Tyrol, our little guests can splash around, swim, slide, play, relax, and more. Here, they will discover a warm, secure children's pool with a pirate ship and unique attractions for the little ones, a lazy river with a flow channel to the year-round heated outdoor pool with bubble loungers, an indoor innertube water slide over 100 metres long, a turbo slide with drop start – the first slide of its kind in Italy – and an outdoor slide leading into the seasonal outdoor adventure pool. Guesthouse P also impresses with its indoor pool with an integrated whirlpool for families. As you can see, our hotel with a pool in South Tyrol is a true treasure trove for adventure-hungry children – whether for a short but soothing day spa in South Tyrol or for a longer stay.
The coolest pool of 2022!
We are delighted to have received this special award in 2022: the "Mein Tophotel" travel portal named our flower-shaped rooftop glass infinity pool, a true highlight of our hotel near Meran with a pool, the "Coolest Pool of 2022" – from a shortlist of ten spectacular hotel pools from across Austria, Germany, and South Tyrol.