Through trials and triumphs: your hosts, the Dorfer family
With passion and strength
The Dorfer family is defined by their unwavering passion for being hosts. This tradition was instilled by Luise Dorfer, the senior boss and a pioneer in the tourism industry, who exemplified values such as diligence, foresight, and courage for new endeavours. Luise passed these values down to her children, and Heinrich Dorfer and his family now continue to embody this passion at the Quellenhof Luxury Resorts. Alongside his wife Meggy, Heinrich Dorfer takes the lead at the resorts, with the invaluable support of their three children: Carolin, Lukas, and Tobias Dorfer.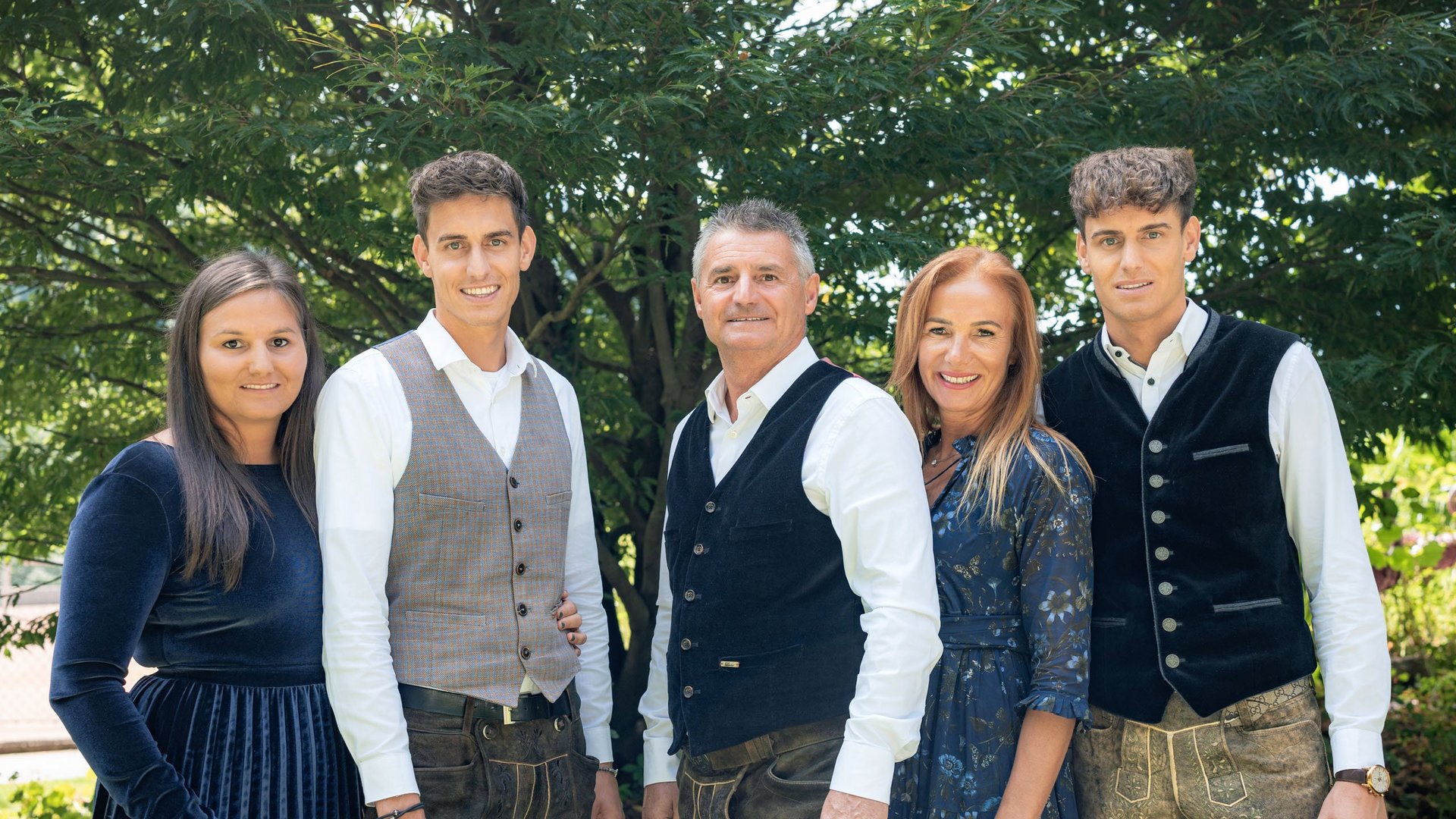 Eduard Dorfer and Resi Niederbacher
In 1897, the Quellenhof began as a modest inn in Val Passiria/Passeiertal, which had yet to flourish as a tourist destination. The early years saw frequent changes in ownership. However, in 1923, the Dorfer family took over the rundown inn, marking the beginning of the Quellenhof's golden age. Over the years, Heinrich Dorfer's grandparents, Eduard Dorfer and Resi Niederbacher, worked tirelessly to create a warm and inviting atmosphere where guests could enjoy their stay. With its beer garden and bowling alley, the Quellenhof soon became a popular meeting place, attracting visitors from near and far. The wood-panelled dining room was frequented by both locals and guests from Italy, Austria, and Switzerland, who savoured the speciality of the time – blue trout freshly caught from the crystal-clear Passirio/Passer river and prepared by Grandma Resi. The Quellenhof's popularity even drew the attention of notable figures of the time, including ministers and other high-ranking personalities.
Whether or not you believe in fate, the Quellenhof's story has some fateful twists and turns that make some people think: "This can't be a coincidence!" Berta, the intended successor of Eduard and Resi, selflessly ceded her inheritance to her brother Rudolf and moved to St. Martin in Passeier. Berta arranged a job for her dear friend Luise at the Quellenhof. It was a fortunate turn of events – Rudolf, then a junior manager, fell head over heels for the young lady from Ulten. Luise and Rudolf Dorfer exchanged vows on 1 April 1959. They went on to have four children: Marlene, Heinrich, Helga, and Birgit. After Luise and Rudolf formally took over the then-simple hotel from Rudolf's parents in 1963, the establishment flourished more and more. Sadly, Rudolf Dorfer's untimely death at the age of 42 dealt a devastating blow. His wife, Luise, was left behind with four small children and a thriving guesthouse. Nevertheless, throughout her life, Luise Dorfer was known for her immense willpower and unbridled diligence. She dedicated herself to securing the future of her family and the business. With unwavering determination, she continued to manage the Quellenhof while caring for her children. Only three years later, in 1973, this pioneer of tourism in South Tyrol had the Forellenhof built, with its 45 additional guest beds and the first tennis courts and bought the then Kennenhof with its vast grounds.
Luise Dorfer imparted her values, including her diligence, warmth, and pioneering spirit, to her son Heinrich. Strengthened by her support, Heinrich took over the Quellenhof in the early 1990s and embarked on a series of expansions. He had a modest three-hole golf course built, which soon became so popular that it had to be expanded. Under Heinrich's direction, the Forellenhof underwent significant renovations in 1994. Five years later, he had the Alpenschlössel built, and in 2000 the old Quellenhof was demolished, and a completely new hotel was erected. Heinrich displayed foresight by constructing a bypass tunnel, relieving the Quellenhof of traffic congestion. In 2004, the Parkresidenz, with its suites, wellness area, and restaurants, was built, followed in 2009 by the Vitalresidenz, which in 2010 became home to the exceptional Medical Center. Today, these five buildings form the Quellenhof Luxury Resort in Val Passiria/Passeiertal, a unique and exclusive holiday world far away from everyday life, where dreams become reality.
A glimpse into the life of tourism pioneer Luise Dorfer
Luise Dorfer, affectionately known as "Mother Dorfer", is revered as a pioneer of South Tyrol's tourism industry. Throughout her life, she was the soul of the place. She always had a kind word for all guests and staff members and was known far beyond the borders of Italy for her excellent cooking skills and her engaging cordiality. However, her life was marred by numerous hardships. Her childhood was shaped by the effects of war, poverty, and clandestine schooling. Nevertheless, Luise Dorfer possessed a resilient spirit and an unyielding determination to create a better future. Through her dear friend Berta, the daughter of Eduard Dorfer and Resi Niederbacher, Luise found herself working at the Quellenhof in 1958, where she fell in love with Rudolf Dorfer. They married on 1 April 1959, and in 1963, they assumed ownership of the hotel, which at the time had only 20 guest beds. Side by side and with a lot of passion, they led the business into the future. A sombre chapter in Luise's life and the history of the Quellenhof unfolded with Rudolf's grave illness and premature death a mere eleven years after their wedding. Luise tirelessly cared for her ailing husband, standing by him in his last days. The widow did not have much time to mourn. Suddenly, she was alone with four small children and a flourishing inn and was compelled to secure the family's future. With willpower, foresight, and courage, she continued to run the business and, at the same time, care for her children – a delicate balancing act that she executed with remarkable grace. Luise Dorfer passed on so much to her children Marlene, Heinrich, Helga, and Birgit. From their mother, they learned the principles of tenacity, enterprise, and forward-thinking. The four have internalised their mother's values and passion and manifest them in their respective businesses every day. In 2010, Luise Dorfer was awarded the Medal of Merit of the Province of Tyrol, and in 2014 the award "A Life for Business". After a long, fulfilling life marked by trials and triumphs, Luise Dorfer passed away peacefully in 2019 at the age of 89. The pioneering spirit, warmth, and benevolence she embodied can still be felt in every corner of the Quellenhof.