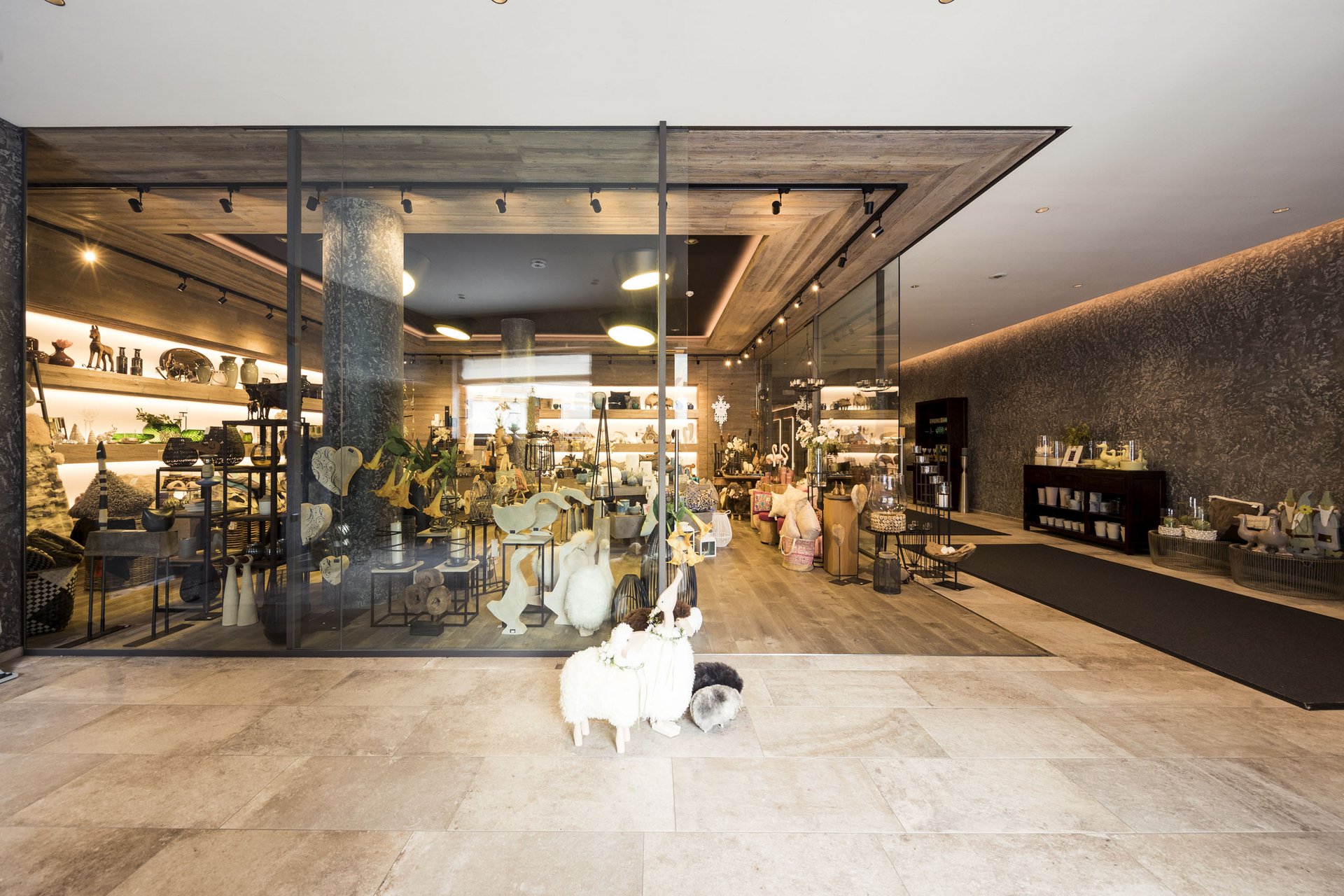 The Quellenhof shopping experience
Memories to take home with you
At the Quellenhof Luxury Resort Passeier, you'll find a selection of shops right within the resort, offering home decor, exquisite jewellery, high-quality fashion, and gourmet delicacies. Located on the ground floor next to the hotel bar, two exclusive boutiques offer fashion and sportswear for all ages. Their collection includes trendy clothing from renowned brands like Golfino, Alberto, Lotto, Wilson, and Adidas, as well as swimwear, sunglasses, and leisure items. You'll also discover the "Tiroler Goldschmied" here, featuring jewellery creations of their own production and from renowned producers. The Tiroler Goldschmied gained fame as the supplier of diamond-studded falcon hoods for a sheikh in Dubai.
After many years of demand from guests, Meggy Dorfer, a passionate decoration specialist with a discerning eye, has opened a wonderful shop with exclusive decorative items, room fragrances, candles, pillows, blankets, and many other home accessories. You can browse the various items to your heart's content and purchase your favourite decorations, many of which you will also see adorning the hotel. Bring the elegant and luxurious atmosphere of the Quellenhof Luxury Resort into your own home.
Delicious and regional specialities
The "Wein- & Gourmetladele" shop stands out with its unique selection of wine and specialities. Its manager, Maître Matteo Lattanzi, has personally selected the shop's high-quality regional delicacies and gourmet regional and Italian products with great care. Every bite and sip mark the beginning of a sensory journey through the flavours of South Tyrol and the rest of Italy.
Beauty and wellness products
Would you like to use our high-quality beauty products at home? Or is there a product from home that you have forgotten? In the Quellenhof Spa, you will find a small shop with products from the new Quellenhof cosmetics line, as well as nail varnish, make-up, fine day and nightwear, cosy felt slippers, summery flip-flops, and fashion jewellery.