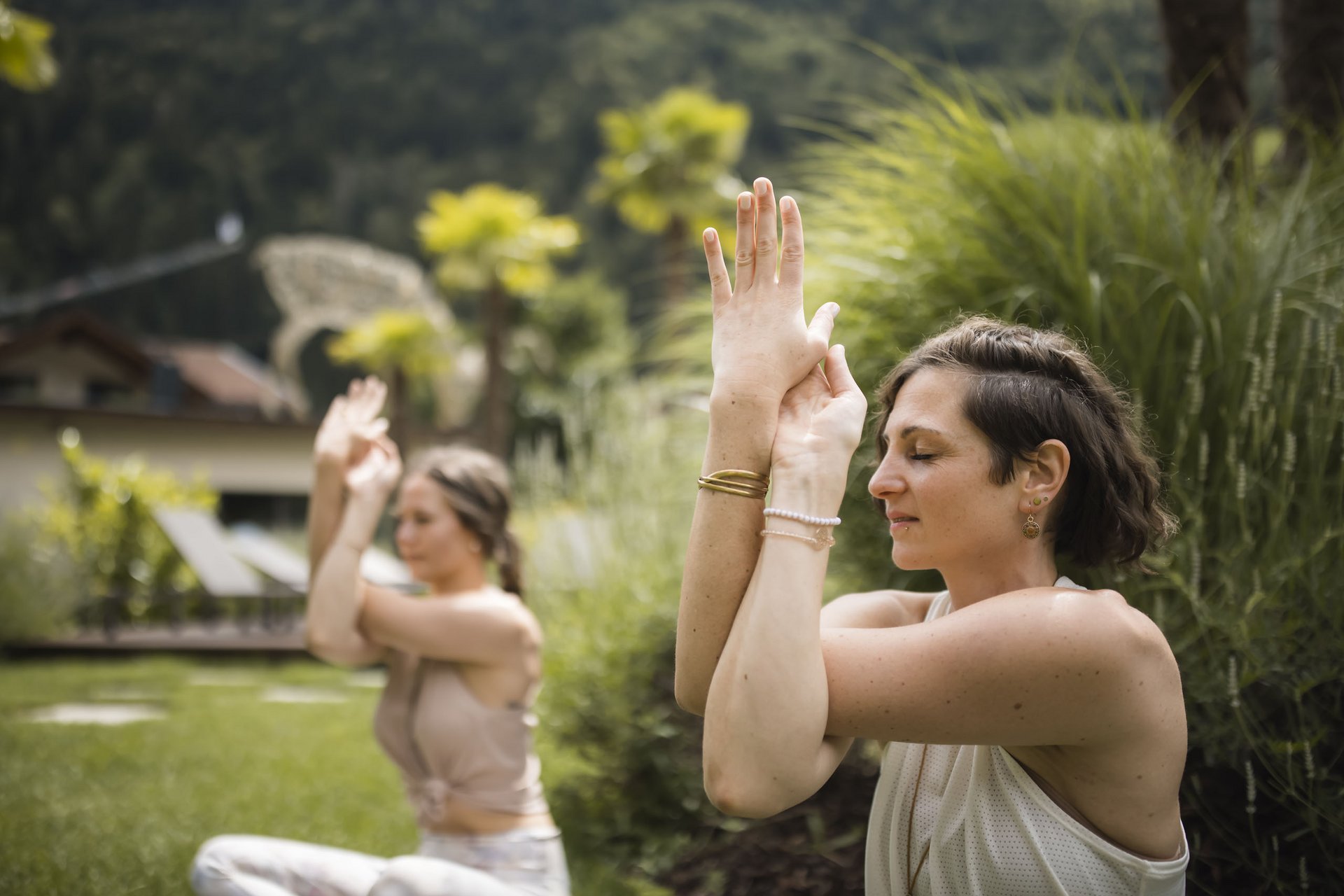 Let the energy flow at the yoga hotel in South Tyrol
Asanas and flows
Embark on an inner journey. Relax every muscle in your body. Breathe in. Breathe out. Feel the energy flowing through your every fibre. Yoga is a beneficial practice for anyone who wants to harmonise body and mind and strives for inner balance. At the Quellenhof Passeier, the exclusive yoga hotel in South Tyrol near Meran, it is easy to find peace and let your thoughts roam freely. The harmoniously designed yoga rooms of our sports hotel in South Tyrol are the perfect setting for your asanas and flows.
Contrary to common misconceptions, yoga is not about elaborate contortions or achieving difficult postures. Instead, it's about listening to your body, feeling what nurtures you, and taking the time to deepen these positions. Through the flowing movements, the asanas, your strength, flexibility, and sense of balance are strengthened. These movements activate your muscles, tendons, and ligaments, as well as your blood and lymph circulation, relieving back, head, and neck pain. Yoga and hiking in South Tyrol go hand in hand here. Breathing exercises (pranayama) and meditation (mindfulness and concentration exercises) can also alleviate health problems (e.g., high blood pressure, high blood sugar, high cholesterol, heart problems, sleep disorders) and have a positive effect on the immune system. Close your eyes and listen intently within – we guarantee it will be a whole new experience. The special thing about yoga near Meran is the Mediterranean atmosphere, which provides an additional feeling of peace and balance. As a wellness and yoga hotel in South Tyrol, the Quellenhof offers exclusive facilities that ensure relaxation and recuperation.
This is what we offer at the yoga hotel in South Tyrol near Meran
Hatha Raja Yoga sessions: holistic approach with our certified yoga teachers
Singing bowl meditation: the sound of the singing bowls brings mind and soul into harmony.
Vegetarian and vegan delicacies: healthy and fresh and included in the gourmet half board, in the à la carte restaurant and in the bistro of the yoga hotel in South Tyrol
Yoga mat rental: for your private yoga sessions on holiday
Dreamlike retreats for undisturbed yoga moments: flows and asanas with wonderful panoramic views of nature
Private yoga at the hotel in South Tyrol adapted to your wishes and needs, 60 minutes, €75.00
Introducing:
our yoga instructors
In their sessions at our luxurious yoga hotel in South Tyrol near Meran, our yoga instructors create a unique experience of mindfulness that combines several yoga teachings. The common threads are harmony, fluidity, intense stretching, and muscle-strengthening sequences. The sessions are rounded off by meditation, breathing exercises, and a deep, regenerating final relaxation. Melanie has experience in Hatha Yoga, Yin Yoga, Vinyasa, Nidra Yoga, Pranayama, and singing bowl meditation, as well as children's yoga. In spring, summer, and autumn, the sessions are held outside in the idyllic nature surrounding the five-star yoga hotel in South Tyrol. Whether you're a beginner or an advanced practitioner, Melanie's yoga classes cater to everyone. The yoga classes are free of charge for guests of our wellness hotel in South Tyrol.