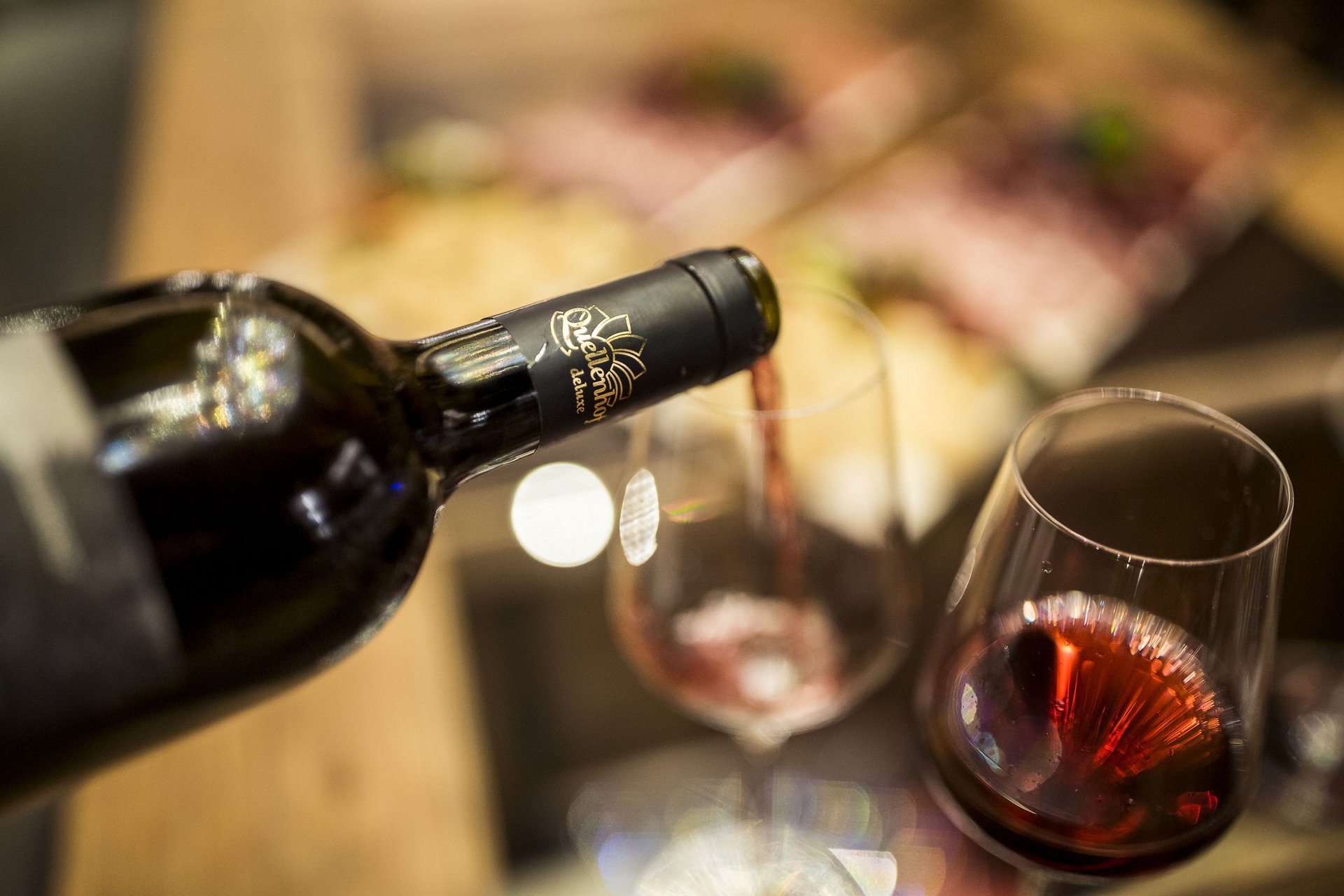 Fine wines for discerning palates
For connoisseurs and gourmets
As the ancient Greek poet Euripides once said, "Where there is no wine, there is no love." And at the Quellenhof Luxury Resort Passeier, love and wine go hand in hand – the noble beverage rounds off an exclusive stay with your special someone. Our wine cellar is home to over 1,200 labels from South Tyrol and the rest of Italy – including some rare gems. Our oldest wines date back to 1943. Our sommelier will be happy to advise you on the selection that best matches your dishes.
Vinotheque tours
at the Quellenhof
Every week, we offer a guided tour of the Quellenhof Luxury Resort Passeier's vinotheque. It's an impressive sight. Between cool stone walls and ancient wine barrels, over 20,000 bottles of wine from the best-growing regions in South Tyrol and the rest of Italy, as well as rarities, are stored here. The sommelier carefully opens a precious bottle and pours himself a small glass. He swirls the wine, contemplates its colour, and inhales the fruity aroma before taking a sip. Experience the magic first-hand as you sample our exquisite wines and let their rich flavours carry you away.
The Quellenhof Cuvée Sorgent Red
The Sorgent Red is a fine, complex wine with structure and power. Just as extraordinary as the Quellenhof. This powerful red wine cuvée was created in cooperation with a small private winery in a sunny South Tyrolean location known for its exceptional wine-growing conditions. The cuvée impresses with its versatility in aroma and taste. The aroma is reminiscent of forest fruits and prunes and has a slightly spicy note. On the palate, the wine showcases its fullness and elegance as well as its balance. Treat yourself to this exquisite wine during your next stay at the Quellenhof.